When you say the word "tequila" to people you can get mixed reactions. Some may stick out their tongue and put a scowl on their face and tell you about a time when they were 21 years old and had the worst night ever, all because of Jose Cuervo.  Others may light up with joy as they have found the many wonderful tequilas available and enjoy it in everything from margaritas to it being by itself in a shot glass. What most people don't know, is that tequila comes from a town called Tequila.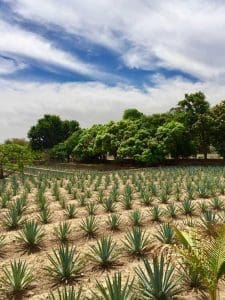 The town of Tequila is located in the state of Jalisco, which is about 37 miles away from the city of Guadalajara.  It was named a World Heritage Site by the United Nations Educational, Scientific, and Cultural Organization (UNESCO) in 2006 and it rises from the foot of the Rio Grand Canyon. There is a large volcano at one end of the town and during the rainy season, the beautiful blue agave plants (what tequila is made from) benefit from the runoff from the volcano.
One of the most distinct things you notice when you arrive in town is the smell. Due to all the distilleries making the beverage tequila, the whole town has a pleasant sweet smell of caramel, similar to what you would experience when touring a beer brewery. Most people who arrive love the smell but some are put off by it.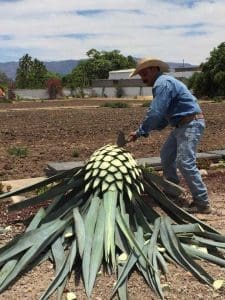 When I first visited Tequila, being a tequila lover I got excited anytime I drove past a place that said "Tequila" on it. What was funny for me is that everything in the town says Tequila. The garbage truck, the ice cream store, I was surrounded in a town of one of my favorite things.
Tequila, the beverage, is made from blue agave and when visiting the town you see beautiful fields of this plant spreading across the valley. Most people think blue agave is a cactus because of its large spiked leaves, but it is actually a succulent, and believe it or not, related to the orchid family called Asparagales. Once ready for production, the leaves are chopped off and the core (called a piña) is used to make the beverage by cooking it for many hours, and eventually distilling the liquid collected in the process.
If you do get the chance to visit this magical town, take a tour to see agave harvested and visit a distillery or two and watch the process. It's a great experience and the town is filled with a wonderful history and charm. If you are traveling from the U.S. into Mexico, don't forget your travel insurance in the event you need medical attention on your trip to Tequila.