Get Stateside Fast When You Need It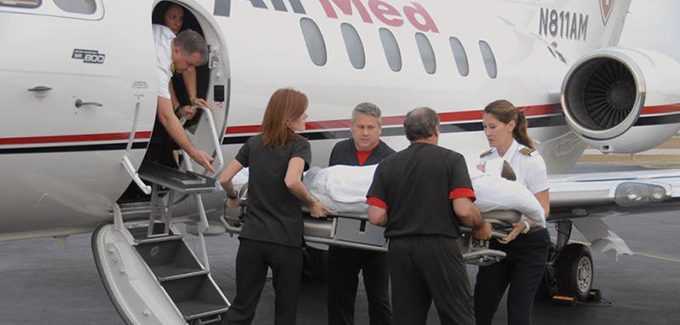 Coverage you hope you will never need but glad you have if the worst happens.
Air ambulance insurance that will get you Stateside to the hospital of your choosing.
Underwritten by Nationwide Insurance, our medical evacuation insurance will fly you home in the event you are in an accident and need to get to a hospital back home. The evacuation insurance is through Travel MedEvac Insurance and provides air and ground transportation to get you from a hospital abroad to one back home.
Travel Evacuation Insurance FAQs
Why Choose TME Travel Insurance?
TME uses Air Ambulance Worldwide, a highly accredited medical air transport service. They have an extensive network of EUARMI and CAMTS to ensure only experienced global air ambulance providers with a level of safety and commitment that is unmatched in the industry.
Who is eligible for a plan?
If you are a resident of the US or have a US mailing address and are under the age of 85, you are eligible for a Travel MedEvac plan.
What are the limits of the policy?
Evacuation services are covered up to $500,000 per person, vehicle and vessel return up to $5,000 per person, and mortal remains repatriation is covered up to $50,000 per person.
Is there anything that is not covered?
The air medical provider will manage your care from hospital to hospital. It includes air transport, ground transport (ambulance) and all medical crews, pilots, and any medications and medical devices you may need along the way.
Can I cover my children and dependants?
Yes. Family plans offer significant savings. Children must be under the age of 19 and dependents under the age of 26, otherwise, they need their own plan.
If I need to be evacuated, how will my family members get home?
When possible, the air provider will allow family members to join you on the trip back home, but health and safety are always the primary concern. If they cannot come on the flight, Travel MedEvac will arrange a commercial flight to the nearest commercial airport of the hospital you are being taken to.
Can I purchase a plan if I have a pre-existing condition?
Yes, and there are no waiting periods, you just have to purchase the plan before you depart for your trip.
Our Trusted Evacuation Partner
Purchase your evacuation policy today and rest assured you have a way home should the unexpected happen.